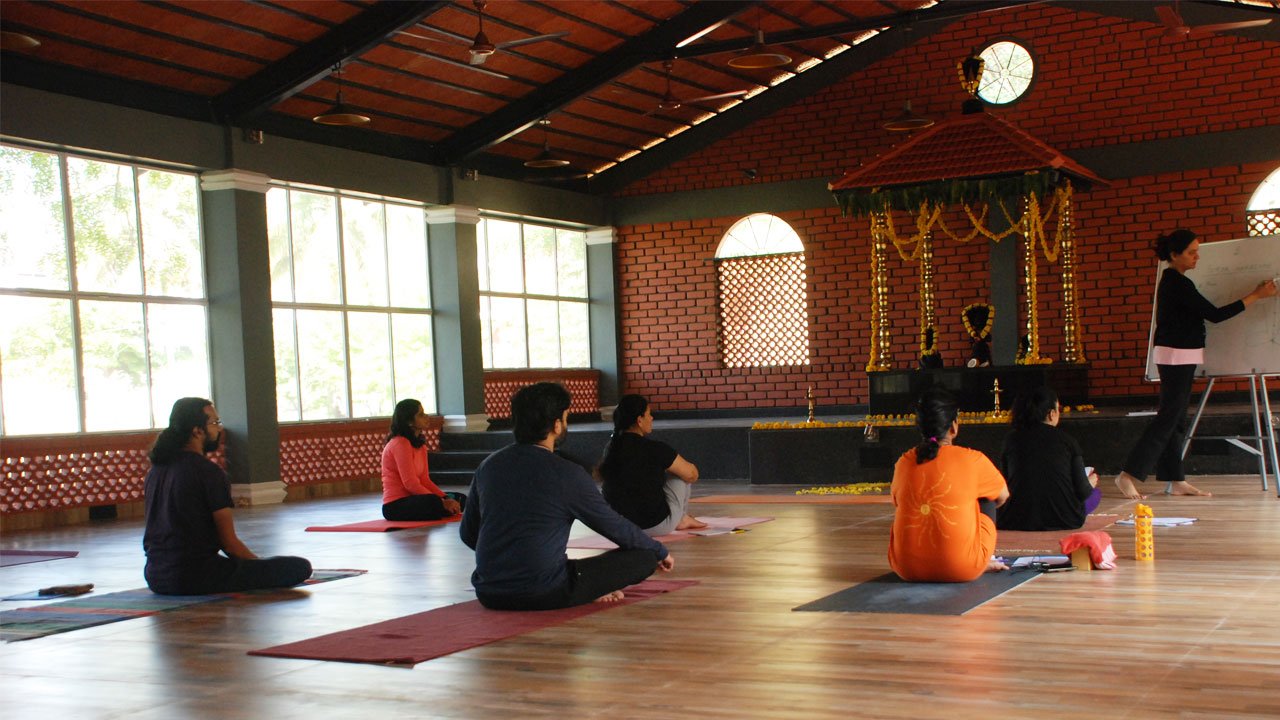 ---
👉 Upcoming Course Date : 28 January – 2 March 2021 👈
Yoga Protocol Instructor – AYUSH
Medium – English
---
The Yoga Teachers Training Course (TTC) offered at the Bharat Yoga Vidya Kendra in Madanapalle is a 200 hrs (30+days) residential program. The objective of the course is to prepare students to teach authentic and traditional knowledge of yoga to people of all age groups across the world.  On successful completion, a certificate for 'Yoga Protocol Instructor' is issued jointly by Yoga Certification Board (YCB) – Ministry of AYUSH, Govt of India, and Bharat Yoga Vidya Kendra.
---
The Yoga Teachers' Training Course
The course is based on the ancient gurukula system of India where teacher and student live in an ashram atmosphere. The students are trained to develop a strong foundation in comprehensive understanding of yoga, yogic philosophy and traditional yogic practices. It is also an opportunity to explore the ancient yogic wisdom, and open oneself up for inner transformation.
Methodology
Teaching is through practical, theoretical and interactive method in a safe and supportive learning environment. The program is taught to a small batch of 25 students making it conducive for one-on-one guidance and learning. The staff and the teachers are available throughout the program to support the learning process. The curriculum is extensive and covers a wide range of topics on Yoga.
Location
This slideshow requires JavaScript.
Bharat Yoga Vidya Kendra is located within the ashram premises of The Satsang Foundation, surrounded by hills in Madanapalle, a small but busy town on the outskirts of Chittoor district, Andhra Pradesh.
One gets an opportunity to stay in a serene atmosphere; wake up every morning listening to the chirping of birds, watch sunrises and sunsets, feel the beauty of living a simple and disciplined lifestyle with basic needs, a vegetarian diet and daily practice of yoga and meditation.
The students get to explore nature and sacred places around the ashram.
Duration
30+ days residential course with over 200 hours of training
Eligibility
Age limit between 18 to 60 years
It is desired that the candidate should have passed 10th standard / secondary school certificate from a recognized board or equivalent
The candidate should be in good health condition to go through a month-long intense training
Knowledge of English language is mandatory (Written and Spoken)
Curriculum
The course is taught in English. The syllabus comprises an exhaustive list of theory and practical topics. This helps one to gain knowledge about Yoga and become self-confident to share this knowledge with others.
Food & Accommodation
Simple sattvic vegetarian food is provided. The food is served keeping in mind the nutritional requirements for the training. Accommodation is dormitory style with with shared bathroom for men and women separately.  Maximum of 5 people per room are allocated.
Passport/Visa/Travel
An email will be sent by BYVK team confirming the participation and to begin travel arrangements. Tickets are to be booked only after receiving this confirmation
Foreign Nationals are required to bring their original passport with a valid visa for India for the full duration of the course. Visa and International traveling arrangements, travel and local transport should be done by students. If you need any assistance, we can share our authorized travel agent info. Contact us for more details.
COVID-19 regulations will apply.
Tentative Daily Schedule
6.30am – 8.00am Yoga Asanas / Pranayama
8.00am – 9.00am Light Breakfast / Break
9.00am – 11.30am Activities / Yoga Philosophy
11.30am – 2.00pm Lunch / Break / Rest
2.00pm – 4.00pm Theory / Activities
4.00pm – 4.30pm Break
4.30pm – 6.30pm Practicals / Discussion
6.30pm – 8.30pm Dinner / Cultural Activities
Attendance
Attendance at all activities is mandatory. Prior permission is required in case of emergency situations. Changes in the program may occur from time to time.

Fees
For Indians: Rs. 60,000/-
For Non-Indians:USD 1500
The fees include:
-Three meals, two beverages per day for the duration of the course
-Shared accommodation – Dormitory style
-Two pairs of BYVK clothing
-Course material
-A yoga mat with a bag to keep the yoga mat

Certification
A certificate for 'Yoga Protocol Instructor' is issued which is recognized by
Yoga Certification Board (YCB) -Ministry of AYUSH, Govt of India
. This is an internationally recognized certification (Student will bear the Ayush Ministry Certification charges)
A mock exam will be conducted in-house during the training.  Total Marks: 200 (Theory: 60 + Practical: 140)
After completion of the training, it is mandatory that the student takes an online exam for certification. Further details will be provided during the course of the training period.
---
---
F A Qs
---
There are so many yoga schools, how do I know which one to choose?
It is true that there are many. Here, at BYVK, the foundation has been laid by the living master Sri M's vision is to share traditional, authentic knowledge of yoga across the globe. Here is an opportunity to be part of this vision. Access to the Babaji's (Sri M's Param Guru) meditation room is also provided. Batch size is kept small to ensure utmost attention and learning.
What to expect from the 200hr TTC program?
The course content has been conceptualized by a realized Master, Sri M
More time for refining self through Karma Yoga which helps deepen the practice
This certification will enable the participant to teach yoga to others after stipulated period of self practice.
Will Sri M take any sessions?
Sri M will take a few sessions as per his availability. The details and dates will be announced during the course.
Do I have to be physically flexible to join this course?
Each person has a different body type, some are naturally flexible and some are not. Yoga is much more than just the asanas but you will surely gain flexibility and strength through the course duration

Can I take this training even if I do not intend to be a yoga teacher?
A yoga teacher training program is a life changing experience. Consider this as an investment in yourself, in your personal development. An opportunity to re-discover life, knowing oneself, acquiring tools and techniques to deal with life peacefully. Though it is mandatory to take up the online examination, sharing and spreading this knowledge bringing about a positive change in the community is up to the participants.