A Call to CONSERVE, AWAKE AND ACT
Warning!
India is running out of groundwater.
By 2030, India will only have half the water it needs.
Nearly 21 cities, including Bengaluru, Delhi and Hyderabad, have almost run out of groundwater already. They survive on water supplied from areas, at times nearby, at times hundreds of kilometers away.
While the Government of India has initiated large scale measures to course correct, we need micro-scale interventions – every sentient Indian citizen and conscientious organization will have to act. The Satsang Jal Seva Sangathan (SJSS) is an initiative conceived by Sri M in partnership with various government bodies, NGOs and experts to wake India up to the need to conserve water.

What to Correct
Depletion
Contamination
Disconnect between groundwater and ecosystems
What to Do
Conserve
Store
Recycle
Replenish and rejuvenate through rainwater harvesting
The Vision
Make every Indian city self-sustained in its water requirements
Work Undertaken
Projects at the Peepal Grove School, the Madanapalle Campus and the Sacred Grove are already underway.
The Peepal Grove School, Sadum
Sadum falls in the semi-arid region of AP, India, where water scarcity is common. Over the years, The Peepal Grove School has taken several sustainable measures to harvest and conserve water. Today it is self-sufficient, even during months when rainfall is low.
Rainwater Harvesting
The Peepal Grove School can collect up to two lakh litres of rainwater during good rainfall.
How is it done?
Currently, rainwater is harvested from 8 buildings on campus.
Structures have sloping roofs, the water flows into gutters that divert it into filters.
How has it helped?
The campus can function for 15-20 days on water collected from rain without using bore wells. – If used only for drinking, harvested water is sufficient for nearly four months.
Conserved the school's groundwater.
Diluted the hardness of the water in the central sump.
Water Conservation
Measures
Apart from rooftop harvesting, there is surface water harvesting.
Many earthen pits and channels have been built across the campus to recharge groundwater.
The school has been recycling Grey Water — water that comes from bathing and washing — with Reed Bed Technology since 2013.
The filtered water is used to sustain a small organic farm.
Two patches of Miyawaki forests have been grown on campus.
Over a thousand indigenous trees have been planted close to each other to improve natural vegetation, recharge the groundwater, check soil erosion, and increase floral and faunal biodiversity.
The Satsang Vidyalaya, Madanapalle
The Satsang Vidyalaya has been harvesting rainwater for over 7 years now.
How is it done?
The rainwater from all the rooftops of the school buildings is diverted to an underground tank that stores up to 40,000 liters of water.
How has it helped?
This water is used to wash vessels, clean toilets and water plants in the school premises.
With two rainfalls annually, this tank stores enough water to ensure that the school is self-sufficient for almost half the year.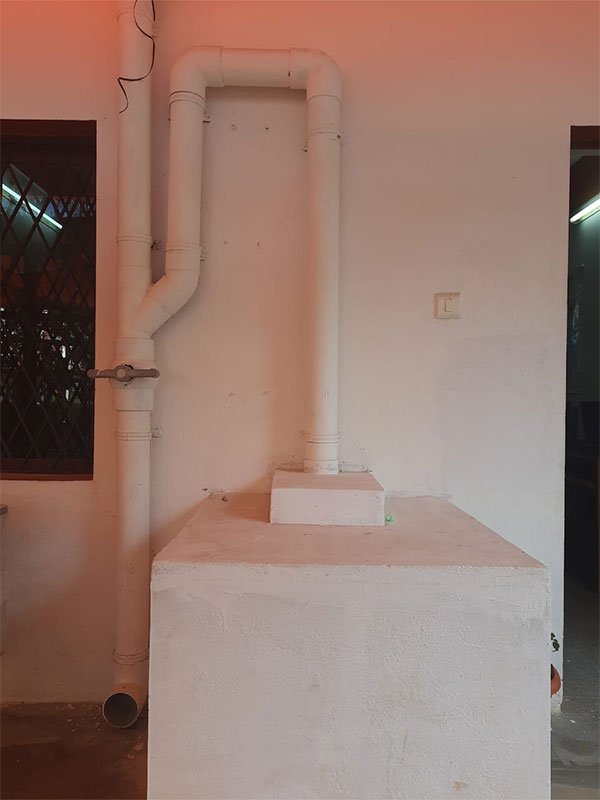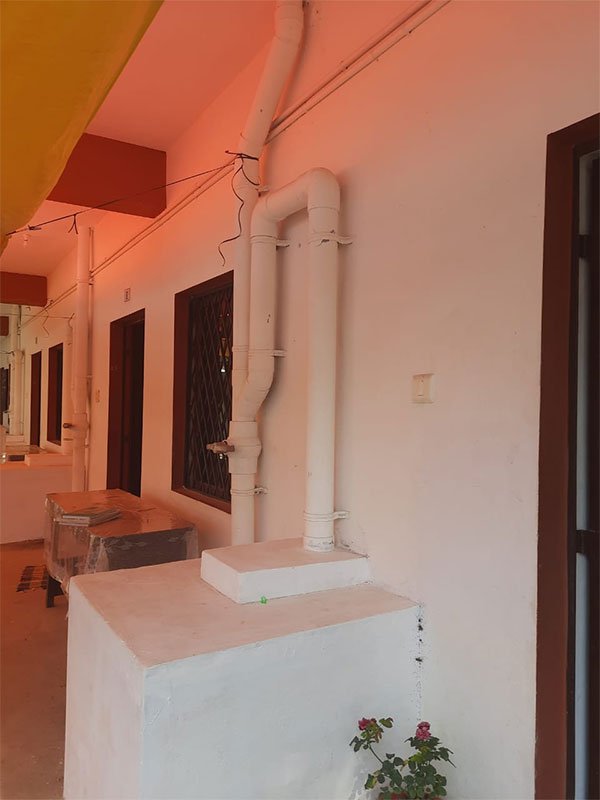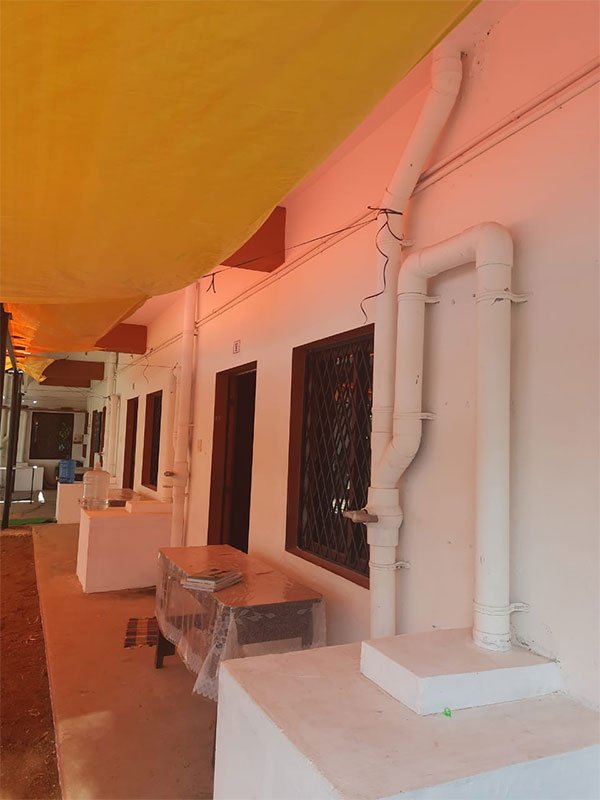 The Sacred Grove, Chowdepalle
How is it done?
A 30 lakh litre retention pond has been built in Sacred Grove, Chowdepalle, AP.
It has been built in a location that makes it practical to collect run-off rain water and drain the overflow into the nearby well.
This retention pond is 145 X 145 ft in length and breadth.
How has it helped?
The water from this pond is used to grow grains, vegetables, fruits and other trees on the campus.
SJSS Project at Chikkaballapur (Karnataka)
Reviving an Old Temple Tank (kalyani)
The SJSS team in Bengaluru plans to rejuvenate a kalyani (temple tank) situated in the premises of the ancient Ranganatha Swamy Temple in Chikkaballapur, around 60 km from Bengaluru, on the way to Gauribidanur. Permission has been obtained from the Karnataka temple maintenance authority for this work.
How is it done?
Clean the kalyani and offer a permanent solution for the retention and recharging of water in the temple tank, year on year.
Involve local participation from the panchayat, temple management and residents.
How will it help?
Key activities planned are cleaning the kalyani, strengthening the steps, dredging the base of the kalyani to allow ground water to surface, fencing and covering it with a mesh.
Trees will be planted in the surrounding areas to improve the local environment.
Village Mal (Murbad Dist., Maharashtra)
Desilting an Existing Lake
Mal is a small village approximately 100 km from Mumbai in Murbad district, Kalyan.
How is it done?
The project taken up by the Mumbai Kendra in association with Indivish Welfare Foundation, is to desilt a lake. The project has been supported through CSR by the transportation company, CMA CGM.
How will it help?
The storage capacity of the lake will benefit the residents of the village and surrounding areas, the soil and the environment.
The initial aim was to take out 3000 cubic metres of silt from the lake, which has been surpassed.
The silt taken out is rich soil, which the volunteers will use to plant 80-100 trees along the periphery of the lake.
Independent Initiatives
Here are some initiatives taken by individuals
Dwarakamayi, Gayathri and Family Bengaluru
Their water consumption is 370 liters, which is 38.3% less than the per capita per day water consumption level set as per BIS.
How is it done?
Simple practices followed to reduce water consumption:
Hand showers for bathing instead of using buckets filled with water (8 litres against 25-30 litres).
Using a minimum flow of water for washing utensils.- Eliminating the use of fresh water for flushing toilets.
Incorporating Drip Irrigation for watering plants/trees in the garden.
Storing cold water from solar water heater lines in buckets and using it for house cleaning/mopping, after which, it is used to water the garden.
For 49% or nearly half the year, they depend on rain water. After storing and using the rain water, any excess rainwater falling within the site area is diverted to a recharge well for aiding percolation, to enhance ground water level, thereby achieving zero wastage of rainwater.
Let us consciously value water, conserve water, preserve the purity of water and replenish the source of water.