To celebrate Sri Aurobindo's 150th birth anniversary this year (2022), a High Level Committee has been constituted under the chairmanship of Sri Narendra Modi, Honourable Prime Minister of India, of which Sri M is an esteemed member. The members have been entrusted with the responsibility of organizing programs on the life of Sri Aurobindo at various prisons across the country. The life of Sri Aurobindo can serve as an inspiration for the inmates and enable spiritual transformation in their consciousness, through self-thinking and realization. All the activities will promote the spiritual growth and evolution among the inmates.
Sri Aurobindo
Sri Aurobindo was a nationalist par excellence and his revolutionary spirit calling for complete Swaraj from the British shone in the inspiring articles that were published in Bande Mataram, the English weekly newspaper that he edited.
Sri Aurobindo had begun the practice of Yoga in 1905 while he was in Baroda. In 1907, he was introduced to Vishnu Bhaskar Lele, a Maharashtrian yogi, who had instructed him to only depend on his own inner guide.
In 1908, the one-year solitary confinement on the charges of sedition, in Alipore Jail radically changed Sri Aurobindo's views. It was while he was in prison that he had a vision of Swami Vivekananda that altered his path and orientation in life and turned him towards an internal evolution of change. This transformative experience led him away from active participation in the nationalist movement. Consequently, his aim went far beyond the service and liberation of the country.
Manav Seva – Beyond Barriers : Sri M's Outreach Program for Prison Inmates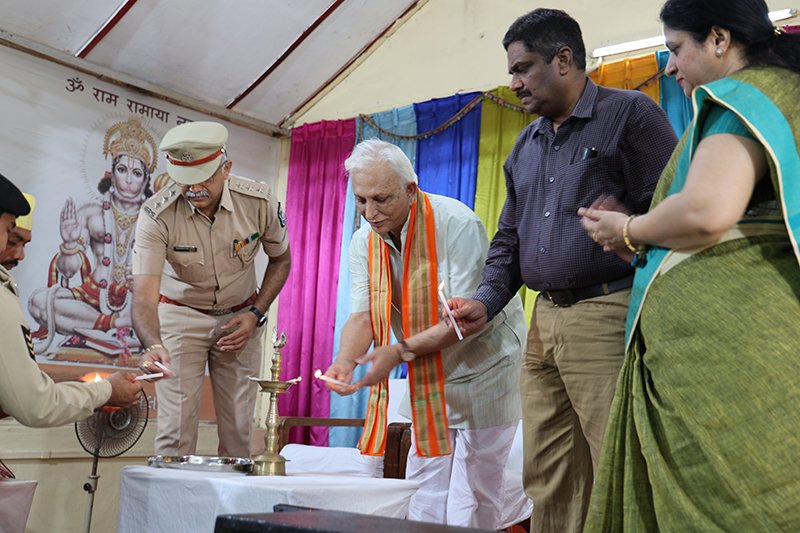 To commemorate Sri Aurobindo's 150th Birth anniversary, as a part of the Azadi ka Amrit Mahotsav, in alignment with his call for Swarajya – Atmano Mokshartham and Jagat Hityacha and Vande Mataram, the call to honour this ancient land, the fountainhead of Wisdom, Sri M has initiated this mission by offering 'Manav Seva – Beyond Barriers', an outreach program for the prison inmates across various cities in our country. The programs will facilitate emotional wellness, inner transformation and spiritual growth for the inmates.
With valuable guidelines from Sri M, The Satsang Foundation will be presenting short films on the life and works of Sri Aurobindo at various prisons, to enhance the possibility of self-reflection among the inmates.
A specially designed programme of yoga and meditation will be conducted by the teachers of Bharat Yoga Vidya Kendra. This will enable and empower the inmates with necessary tools required to move forward in their lives with inner strength and positivity.
Sri M visits the Sabarmati Central prison
On 18th April 2022, Sri M flagged off the 'Manav Seva' initiative by visiting and addressing the inmates of the Sabarmati Central prison in Ahmedabad.
Sri M encouraged the inmates to think of their cell as kutir and practice meditation for atleast 15 min on a daily basis.
Sri M inspired the prison officials to always remember that every human heart has a divine spark within. We all are walking temples and we must think about this.
Sri M said, "Manav Seva is Bhagavat Seva and so is Desh Seva. We must give back to our nation in the form of seva. Through service, the mind becomes calm and purified."
This was followed by a demonstration of the Yoga session, echoing Sri Aurobindo's call for freedom for the soul and service to the world.
The Satsang Foundation is committed to reaching out to prisons in many cities across India and believe that a continued effort in this direction will surely transform the lives of the inmates to help them become responsible citizens.