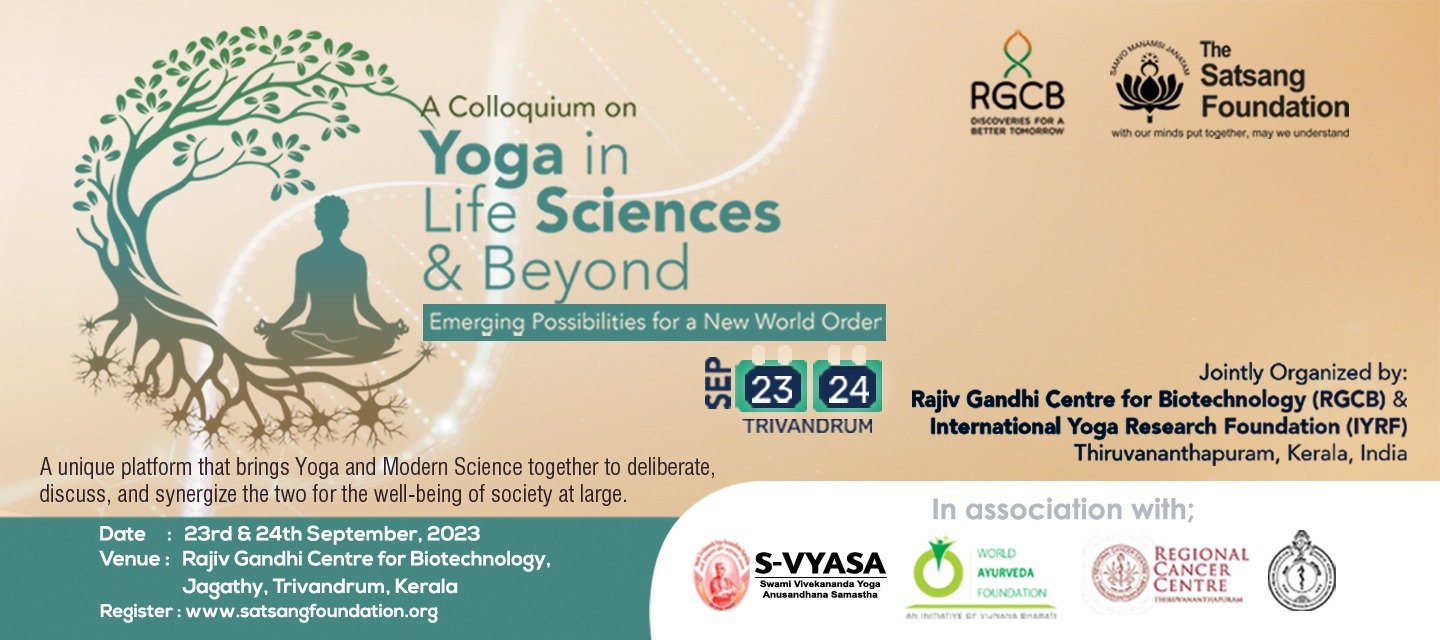 ---
This Event has been Postponed.
---
The International Yoga Research Foundation, an initiative of The Satsang Foundation is delighted to invite you to a Colloquium on Yoga in Life Sciences and Beyond (YLSB 2023), jointly organized by Rajiv Gandhi Centre for Biotechnology (RGCB).
About The Colloquium on Yoga in Life Sciences & Beyond
YLSB offers an extraordinary opportunity for science and scientific personalities across the world to embark on a transformative yoga journey, delve into research, and expand their knowledge on this ancient discipline.
The deliberations of this colloquium explore the profound connections between yoga and science, fostering a harmonious union of the two domains for the benefit of humanity.
The colloquium would bring together experts of both Yoga and Science domains to not only learn from each other, but also present their cutting-edge research results and case studies that connect them.
YLSB also presents an opportunity for the participants to interact with the best, network, exchange knowledge and wisdom, and partner with each other for further research initiatives on this rather unexplored research area, connecting Yoga and Science.
The International Yoga Research Foundation has an unwavering commitment to authentic and traditional practices, coupled with a scientific outlook. IYRF has a team of renowned yoga gurus, researchers, and experts who bridge the gap between age-old wisdom and contemporary scientific methodologies.
At IYRF, we prioritize evidence based practices, ensuring that every aspect of yoga is explored through the lens of rigorous research and scrutiny.
The scientific sessions of this two-day conference will cover the following topics;
1.Yoga and Lifestyle Disorders
a. Diabetes
b. Hypertension
c. Cancer
d. Obesity
e. Sleep apnea
f. Cardiac issues
2. Yoga and Cancer Management
3. Yoga and Endocrinology
4. Yoga and Neurology
5. Yoga and Child Psychiatry
6. Yoga and Gastroenterology
7. Yoga and Gynecology
8. Yoga in Geriatrics
9. Yoga and Orthopedics
10. Yoga and Neuropathy
11. Yoga and Entrepreneurship
12. Yoga and Psychiatry
13. Yoga and Stress Management
Followed by Panel discussions on various topics on Yoga; it's possibilities in scientific medical care.
Embracing the Synergy of Science and Yoga
Yoga, beyond its spiritual roots, is a profound science that harmonizes the mind, body, and soul. As science continuously advances, its focus on holistic well-being aligns seamlessly with the principles of yoga.
By joining us in this incredible journey, scientific personalities can unravel the myriad ways in which yoga complements and enhances scientific understanding. We firmly believe that this collaboration can lead to breakthroughs in various fields, including psychology, neuroscience, physiology, and more.
Yoga – Science Relationship
The amalgamation of yoga and science holds immense advantages for both disciplines and fir society at large. By merging the ancient wisdom with science, we can discover novel techniques to improve mental, emotional, physical well-being and offer holistic solutions for modern-day health related challenges (enhance well-being).
Explore the effects of yoga on stress reduction, anxiety management, and mental health, paving the way for innovative therapeutic interventions (Stress Reduction and Mental Health). Investigate the impact of yoga on cognitive functions, memory, creativity and opening new avenues for optimizing human potential (Cognitive Enhancement).
Unearth potential applications of yoga in managing chronic illnesses and supporting conventional medical treatments (Disease Management). Promote healthier lifestyles through the integration of yoga practices, leading to greater vitality and longevity (Lifestyle
Improvement).
We welcome you to be a part of this unique experience, where ancient wisdom and scientific exploration blend harmoniously, enriching our understanding of ourselves and the world around us. Let us unite in this celebration of knowledge, growth, and holistic well-being.
Join us and unravel the boundless possibilities that exist when Yoga and Science meet.
Organizing Committee
Patron: Sri M, Founder, The Satsang Foundation
Chairman: Prof Chandrabhas Narayana, Director,
Rajiv Gandhi Centre for Biotechnology, Thiruvananthapuram
Co-chair: Dr Rekha Nair, Director, Regional Cancer Centre,Thiruvananthapuram
Dr Sanjay Behari, Director, Sree Chitra Tirunal Institute for Medical Sciences and Technology, Thiruvananthapuram
Where will the Colloquium be held?
The Colloquium will be held in Thiruvananthapuram, the capital city of Kerala. Kerala, located in the southern-most part of India, is often called as God's Own Country for its pristine greenery, beaches, backwaters, small islands, and tourism-friendliness of the state and its people.
When will the Colloquium be held?
The Colloquium will be held on 23 and 24 September 2023, when the weather is friendly in this part of the world.
Who is it for?
We encourage researchers, scientists, doctors, yoga experts, who have an open mind to see the immense possibilities when Yoga and Science interact in a seamless manner.
Contribution: INR 3000 per person includes Lunch, tea/ coffee and arrangements for 23rd and 24th September 2023.
Registration Guidelines:
Prior registration is required to participate.
Only confirmed participants can participate in the event.
There will be NO on-the-spot registrations.
Registration slots are non-transferable & non-refundable
Registration will close once maximum participant capacity is reached.
Registration Process :
Members with unique TSF IDs can register by logging in to their account at TSF App
New members can click here to generate their unique TSF ID first and then
register for the event.
Please check https://app.satsang-foundation.org/faq for registration related queries.
It will take a few days to process the registrations. Also, there is a limited number of seats that will be allotted based on availability and other criteria.
Once the registration request is accepted, contribution details will be communicated to the participants on their registered email IDs.
Kindly do not contact us before five days, in connection with the acceptance of
your participation request.
For any queries;
Please send an email to: yogaresearchtvm@gmail.com or call;
Mr Girish Kumar +91 83339 81303 / + 91 98461 55359
Mr Vipin Karunakaran +91 94968 88946