Registration Number : 11/SO(FW)/16-17
Satsang Swasthya Kendra is a healthcare project of The Satsang Foundation, conceptualized by Sri M to provide free and quality preventive and curative healthcare through holistic and comprehensive treatments. Swasthya Kendra was started in 2013 and is located in Madanapalle, Andhra Pradesh. Treatment, medicines, and orthotics are offered free to the community.
The vision of this project is aimed at ensuring physical, mental, social, and spiritual well being and creating harmony between environment and people. It provides universal access to equitable, affordable, acceptable, available and quality preventive and curative health care services in an accountable manner in accordance with the needs of the community. Its clinical approach lies in holistic and comprehensive healthcare that integrates Modern Systems of Medicine and Indian System of Medicine (Ayurveda, Yoga & Naturopathy, Unani, and Siddha).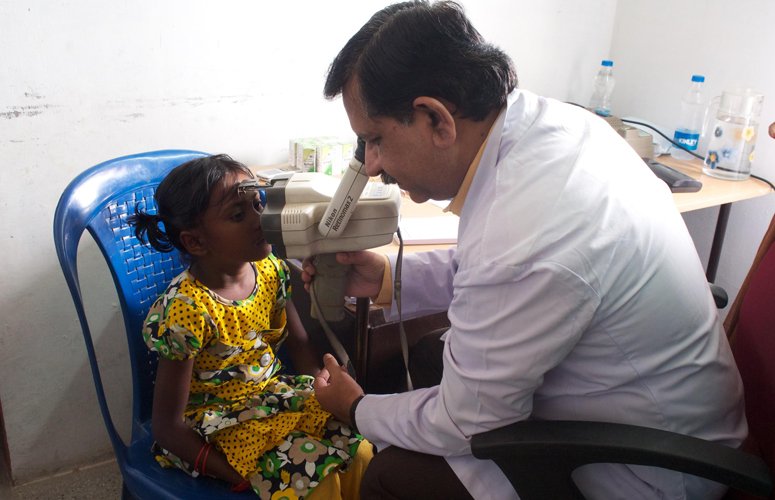 The emphasis is to develop healthy lifestyle and health consciousness among school children and train school children to act as link between "child-to-child" and "child-to-family" in improving and sustaining health of people. The Kendra evolves and organizes human resources and health care systems to deliver health promotion, disease prevention, early diagnosis, treatment, and rehabilitation.
The Kendra aims to address various social determinants of health viz., water supply, hygiene, sanitation, safe waste disposal, nutrition, education, etc., through harmonized activities. In addition to this, it stresses on developing a social movement, as an integral part of community development, through intersectoral co-ordination and organized community effort, participation, equity and ownership.
Facilities and Services
• Health Education
• Medical, Ayurvedic and Dental Outpatient and Dispensary
• Basic Investigations (ECG, Vitals, Blood Pressure, etc.)
• Basic Biochemistry Laboratory
• Community-based Health Programs
• School Health Monitoring
• Preventive, Promotive and Management Training Programs for students, teachers, and supportive staff of Satsang Vidyalaya, Satsang Rural School, SWECHA (Women's Self Help Group) and Community participants.
• Sponsored surgeries for deserving cases
• Periodic Camps depending on the need of the community
Upcoming Project
A 38-Bedded Hospital – Sri M's 2013 vision of starting a full-fledged hospital in Madanapalle is close to fruition. Although the Satsang Swasthya Kendra (SSK) has been servicing more than 12000 out-patients annually, there is a much felt need for a free hospital providing emergency and short-term care. The Foundation now has initiated work towards starting a 10-bed hospital, close to the existing Satsang Swasthya Kendra. This hospital will offer treatment exclusively to BPL families and treatment which will be completely free of cost.
---
Satsang Swasthya Kendra – Updates
---