Please read the visitors information carefully before planning your travel.
---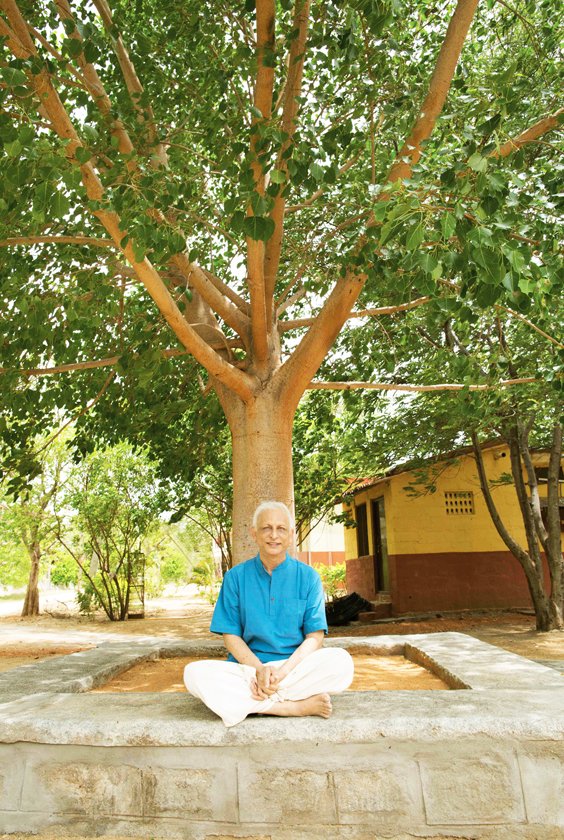 ---
Tucked away in a quiet area, away from the bustling town centre of Madanapalle, The Satsang Foundation Ashram is a sanctuary for spiritual seekers from all backgrounds.
As you walk around the modest but hallowed campus you will come across multiple places for silent contemplation and swadhyaya or self-study.
The ashram does not hold activities on a regular basis as most visitors choose to spend quiet time in Babaji's shrine (update), around the Shivalaya and the Peepal Tree under which Sri M holds satsangs during Gurupurnima and Mahashivratri events.
The ashram has several new additions that have arisen in the last few years such as a Yogashala with a consecrated Patanjali temple, Gaushala with desi cows, new office building, Rangashala: a fully-fledged audio video studio and the upcoming Swaasthya Hospital which is located walking distance from the main ashram area.
For those with a service oriented mindset, The Satsang Vidyalaya and The Satsang Swasthya Kendra are located just beyond the official ashram boundaries. Both places provide opportunities to offer your services towards community but please note that permission to visit and volunteer at these places must be sought ahead of time.
Simple accommodation and vegetarian food are offered at nominal cost. All meals contain onion and garlic.
Visitor's Information
The Satsang Foundation Ashram in Madanapalle is open to visitors.
Day Visitor Information
Day visitor timings are from 9:00 am to 6:00 pm
Breakfast between 8:30 – 9:30 am and Lunch between 1:00 – 2:00 pm
You are requested to arrive 15 minutes before the dining hall closes
Meal requests must be sent to mdplcampus@satsang-foundation.org one day prior to your arrival date
Overnight Stay Visitor Information
The Ashram offers simple accommodation and vegetarian food.
Accommodation is provided for a maximum stay of 3 nights only
Walk-In/Unplanned accommodation requests are NOT encouraged
To book your accommodation please visit The Satsang Foundation Webapp
We look forward to seeing you at the Madanapalle Ashram.
Note: Please email connect@satsang-foundation.org for all Webapp related queries
Reaching Madanapalle
The drive to Madanapalle is around 3.5 hours from Bangalore, depending on the traffic within the city. There are plenty of buses available from Kempegowda Bus Station (Majestic) or old Madras Road, Bengaluru.
Nearest Railway stations
CTM : 15.6 Km (Madanapalle Road)
Chittoor: 99 Km
Bangalore: 140 Km (From City Junction Railway Station)
Nearest Airports
Bengaluru International Airport: 116 Km
Tirupati Airport: 116 kms
Contact Information
The Satsang Foundation – Madanapalle Ashram
Nakkaladinne Village,
Ponnuitpalayam, Madanapalle 517 325
Landline : 08571 221185
Mobile Phone : +91 8333981306
Please call during office hours : 9.00 a.m. to 5.00 p.m. from Monday through Saturday except on Holidays.
The Satsang Foundation Ashram