With the unprecedented surge in COVID19 cases all over the country, India is witnessing a humanitarian crisis of epic stature. While the government and administration are trying to cope with the mammoth responsibility of providing care to the citizens, true to the legacy of India, people from across the country have come forward to help.
We, at The Satsang Foundation, responded to the need of the hour right from the beginning. With the continuous support of kind donors and the matchless zeal of our volunteers, we adopted a multipronged approach under Sri M's guidance.
Ever since the crisis began in April 2020, we took a slew of initiatives in different cities to bring into the fold everyone who was in distress – the marginalised, street vendors, homes for the needy, the aged, the differently abled, folk and theatre artists, anxious relatives, ambulance drivers and many more. The clarion call was Serve those in Need.
As Sri M says
If work is prayer to you, there are a myriad of prayers to be said. If lending a hand gives you a feeling of warmth, there are any number of hands reaching out to you. If giving helps you understand life, there is a whole world waiting to enlarge your vision.
Reaching the Unreached
Our volunteers ensured that he marginalised and needy  from all quarters of life were provided essentials like food, water, masks, sanitisers and soaps  across Bengaluru, Delhi, Hyderabad , Chandigarh, Mohali, Mumbai, Pune, Ahmedabad, Hyderabad, Chennai and Coimbatore.   
Ahmedabad
Anxious relatives of Covid patients, waiting long hours outside the Civil Hospital in Ahmedabad were served meals.
Nearly 2100 special and underprivileged children In Ahmedabad and other cities were given bright indigo shirts bringing smiles to their faces during such dark times.
The highly overworked ambulance drivers, fearless and committed to their task of reaching the sick to hospitals 24/7 were provided packed food and drinking water in Ahmedabad.
Gondavale, Satara
Responding to a call from Gondavale ,Satara (5 hours from Mumbai) medicines and ventilators for the Covid-19 Unit were donated, and these have been set up by the doctors.
Mumbai
25 families in Mumbai with small children, senior citizens and widows, along with families of daily wage earners, who are now without a job were given dry rations for two weeks.
Sole breadwinners, who could not bring food to the table and slum dwellers who had nothing to turn to in Mumbai were given sustenance for a fortnight.
Shattered homes Ulhasnagar (50kms away from Mumbai) where the breadwinner had died because of Covid were given hope and sustenance for two weeks to tide them through their grief.
Pune
40 folk theatre artists in Pune in deep distress, whose livelihoods were deeply impacted due to the lockdown were given dry ration kits to keep their spirits up. We came to know that some artistes had committed suicide.
Chandigarh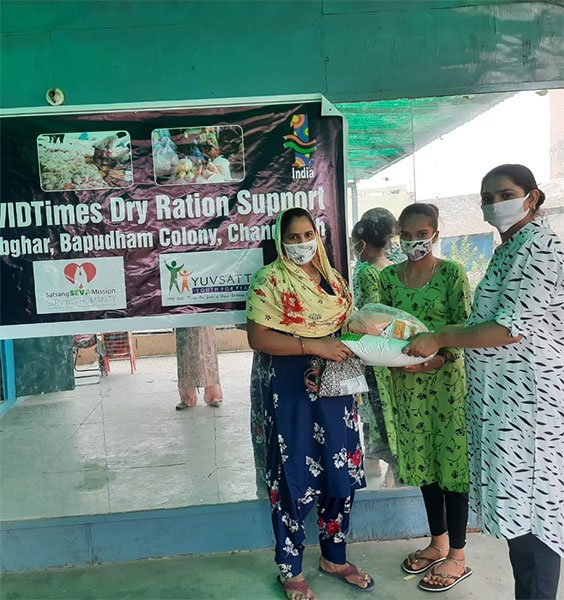 70 Destitute women and children residing in Chandigarh's Slum, Bapu Dham colony with or no resources were given Ration Kits for sustenance.
Coimbatore
Answering a call from Eera Nenjam, an old age home at RS Puram, Coimbatore, the Satsang Seva Mission team promptly sent emergency materials like medicines, diapers, sanitizers and masks for the resident senior citizens.
Lack of resources in hospitals is also fast becoming a serious threat to patient recovery. Addressing this challenge, our Satsang Seva Mission Coimbatore team contributed Two Water Doctor, UV Purifier & Dispensing units to the Government Medical College & ESI Hospitals in order to meet the needs at their Covid-19 Tertiary Care Centre.
Delhi
125 Families of Covid positive patients going through excruciating trauma and living with little or no access to food and essentials in dharamshalas near the hospitals of Delhi or on pavements were provided dry ration.
Hyderabad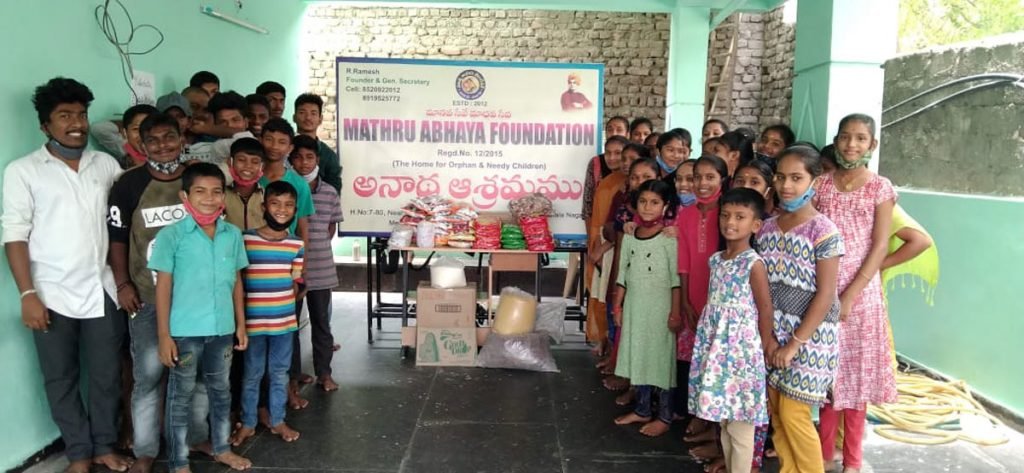 The Telangana team provided ration to orphanages and Sri Padmavathi Educational Rural Development Society, a shelter home for orphan girls and destitute women, where inmates were Covid affected, and were in dire need of help.
Bengaluru
The families of small vendors selling coffee or flowers outside the temple or those selling knick knacks and had lost their livelihoods in Bengaluru were given dry ration kits.
Sri M launched the online Covid Info Portal this month. Verified information of Covid related resources has been collated and is being continuously verified and updated by the volunteers in order to help the public with current and authentic data about hospitals, ambulance, oxygen, doctors, medicines etc.
Satsang Seva Mission Volunteers continue to work and assist where there is a need, irrespective of the lock down and the challenges.
As calls pour in asking for help, Keep working, Keep giving, Keep doing is our chant as volunteers of SSM.