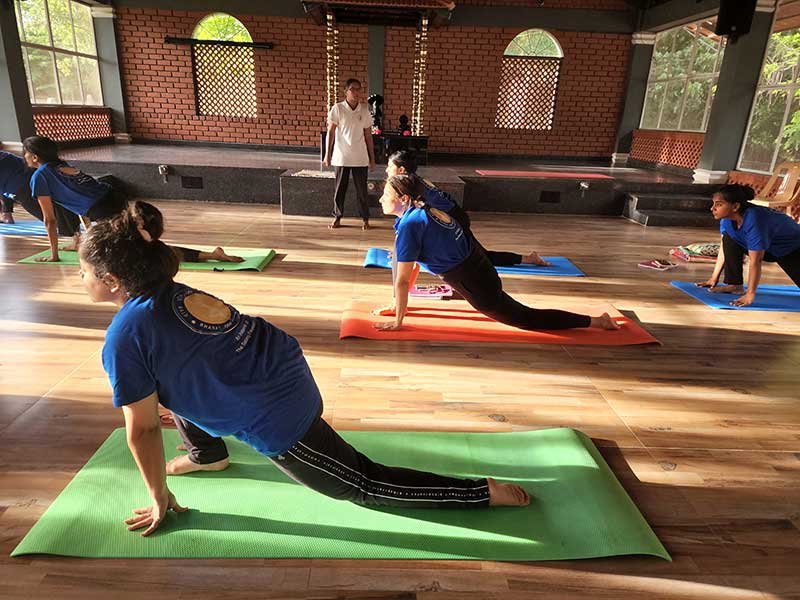 Bharat Yoga Vidya Kendra announces Yoga courses from November 2022 to March 2023, all designed under the guidance of Sri M.
All programs aim for the holistic well-being of aspirants and to help them gain deeper understanding of the traditional scriptures, and practice of Asanas, Pranayama, Mudras, Bandhas and Meditation.
SakhyaM – Yoga for Women
A 12-day Online Course for Women
SakhyaM is a Sanskrit word that means friendship. Through this course, we hope to develop in women a deep understanding and friendship with their body, mind and breath. All asanas, pranayama (breathing exercises), relaxation and meditation techniques taught during the course are effective tools to address the pressures of day-to-day life.
A session with an Ayurveda doctor and Yoga therapist will also be arranged to increase awareness about the right diet, adopting a balanced lifestyle and understanding the female anatomy.
Weekday batch (Mon-Sat): 21st November to 3rd December 2022
Batch timings: 6:30 am to 8:00 am IST
For Registrations and Details on the course, click here
Yoga M – Beginner's Course
Yoga M Yoga M is a 10-day beginner level online yoga course.
Yoga M consists of a simple Yoga Asana sequence designed by Sri M for daily practice to ensure a healthy body and mind. This course is certified by the AYUSH Ministry and the participants get a "Yoga Volunteer" certificate upon the successful completion of the course.
Weekend Batch (Saturdays and Sundays) : 03 to 25 December 2022
Course timings : 5.00 pm to 6.30 pm IST
For Registrations and Details on the course, click here
Yoga Teacher Training Course (TTC 9) – Online and Residential module
30 days comprehensive training into the philosophy and practices of the science of Yoga.
Become a Ayush Ministry certified Level 1 Yoga Instructor and get an opportunity to live in a beautiful Ashram like atmosphere. A modern day Gurukula where the teacher and the students live in close proximity to learn and practice Yoga. The first 15 days of the course is online and the next 15 days at The Satsang Foundation Campus in Madanapalle.
Course dates- 20th February to 21st March 2023
Online Classes:Online Classes: 20th February to 4th March 2023
Class timings: Morning 7:00 am to 9:00 am; Evening 5:00 pm to 7:00 pm
Residential Classes: 6th March (Arrival 12 noon) to 21st March (Departure by 2:00 PM)
For Registrations and Details on the course, Click here
For any queries, you may email us at bharatyoga@satsang-foundation.org, or call us on +91-8999-039-823