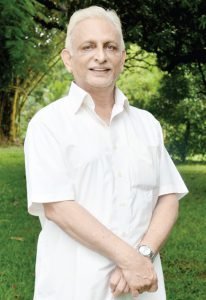 KOCHI: Spiritual leader Sri M embarked on the 'Walk of Hope' expedition last year and traversed around 7,500 km across the length of the country to spread the message of 'Inter-faith Harmony, Equality, Sustainable Living, Women's Empowerment, Community Health and Youth Development'.
The walk organised by Manav Ektha Mission was completed in 474 days, covering 11 states. It was flagged off in Kanyakumari on January 12, 2015, and culminated in Kashmir on April 29, 2016. 'Express' caught up with the spiritual leader when he visited Kochi. Following are excerpts of the interview:
Q: What motivated you to embark on such a trip?
A: As we know India is a country of wide varieties – in language, religion, culture, climate, ideology and much more. We have given space for all religions as well as atheists. But, the values that held us together seem to be falling apart. I had witnessed the horrors of the Delhi riots in 1984, when I was a young journalist there. I embarked on this expedition to spread the message of unity among people of different faiths. I feel walking is a very simple and down-to-earth thing to do. It is a process that is close to the common man.
Q: How do you look at the state of affairs in society? Are you hopeful of bringing back the lost values?
A: The situation is bleak, but I'm hopeful. It was the urge to spread that hope among people of the country that drove me. We have to take the responsibility, and fight. We met mostly youngsters and school/college students during our walk. It was a 'prevention walk,' in the sense that we wanted to stop the youngsters from repeating the mistakes we made in our lifetime. We have to sow the seeds of love and unity in the minds of the young. It will grow to its full size, though it takes time.
Q:You have 'environment protection' as one of your main goals. Share your thoughts on it.
A:We should understand that everything – religion, politics and ideology – have a limit, and that we have reached the limits in exploiting the environment. Our growth has become cancerous, and we cannot carry on like this anymore.
I think anyone who does anything harmful to the environment can never be a spiritual person. We need to nourish the concern for nature. We have formed a new organisation named 'MyTree,' and are on blitzkrieg drive to protect the planet. Chief Minister Pinarayi Vijayan will inaugurate it in Thiruvananthapuram on Friday. Our volunteers will distribute saplings among students and other interested persons.
Read the original article here