Satsang Seva Mission, under Sri M's guidance, is today serving humanity in all its walks, in its difficult journey during the times of Covid, when life has come to a standstill for many, where there is little or no safety net for micro and small businesses, when millions of people, especially daily wage-earners, have lost the means to earn an honest livelihood and the ability to feed their families.
In 2015-16, Sri M led the Walk of Hope from Kanyakumari to Kashmir, to bring the message of hope and peaceful coexistence to more than 10 million people. Reflecting a somewhat similar footprint, the Satsang Seva Mission's outreach over more than three months has covered Tamil Nadu, Kerala, Karnataka, Andhra Pradesh, Telangana, Maharashtra, Gujarat, Madhya Pradesh, Uttar Pradesh, Delhi-NCR, and Jammu & Kashmir. In recent weeks, it has also reached West Bengal, reeling under the Amphan cyclone.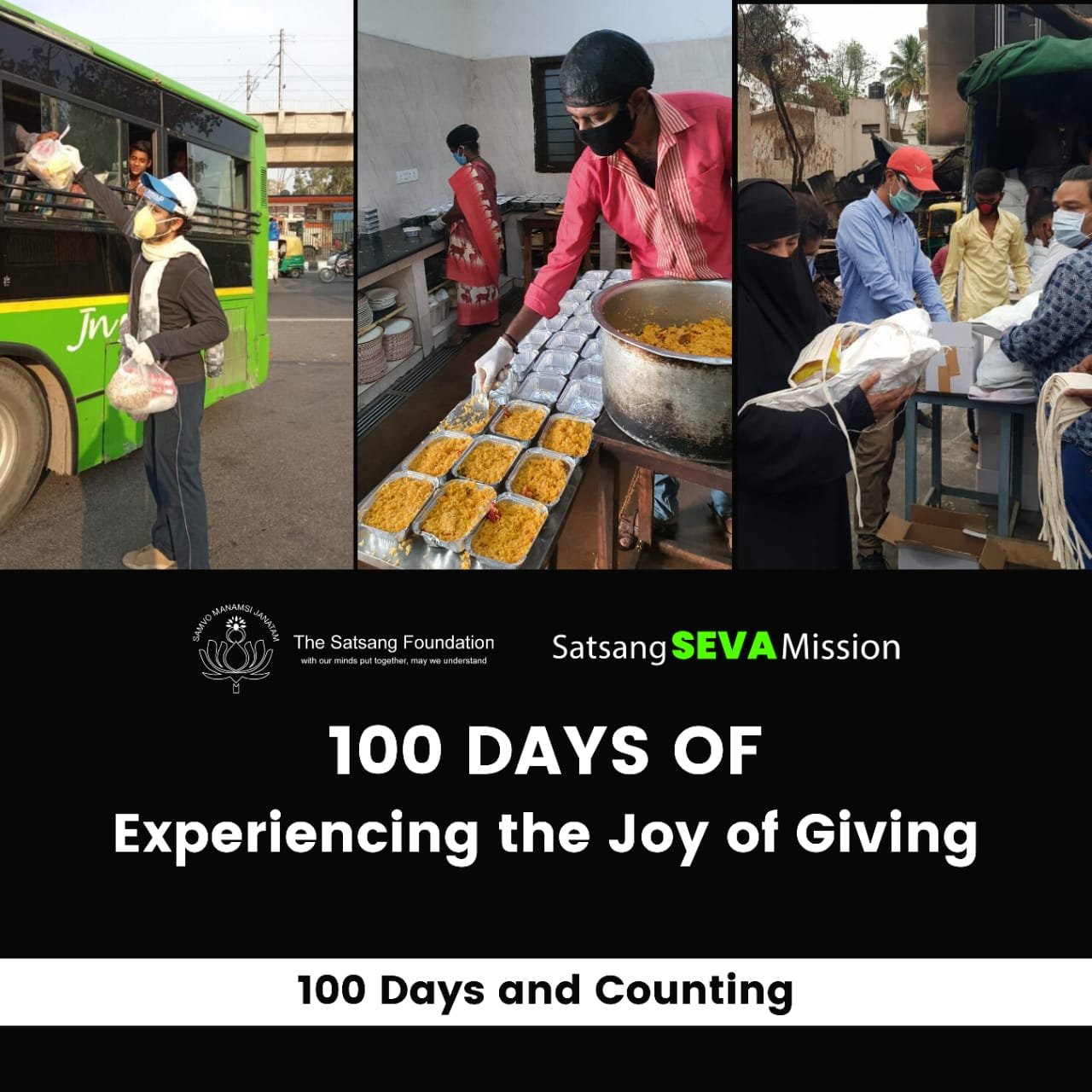 The support from Satsang Seva Mission has ranged from running community kitchens, distribution of dry rations and other essentials, helping homes for the elderly, physically and mentally-challenged individuals, as well as the distribution of personal protective equipment (PPE), masks, sanitisers, and other resources to frontline workers in hospitals, police and among social workers. In some cases, Satsang volunteers identified the occasions and segments for extending support, while in others, the Satsang Foundation was called in to support local government institutions and NGOs.
In the 100 days of the Satsang Seva Mission, about 1.6 million meal-equivalents have been provided in the form of dry rations for households and institutions for segments ignored by other relief activities (such as transgender people, sex workers, HIV patients etc.), cooked meals for individuals, and sustenance packs for people travelling from cities to their hometowns and villages. More than 150,000 units of protective and medical equipment have been distributed, including high-quality Personal Protective Equipment sets, N95 and non-woven masks, medical gloves, face shields, reusable masks, institutional sanitiser dispensing equipment, and specialty medical equipment such as intubation boxes, disinfectant, and sanitisers in bulk quantities to frontline Corona warriors, including medical personnel, police personnel, and Asha Workers.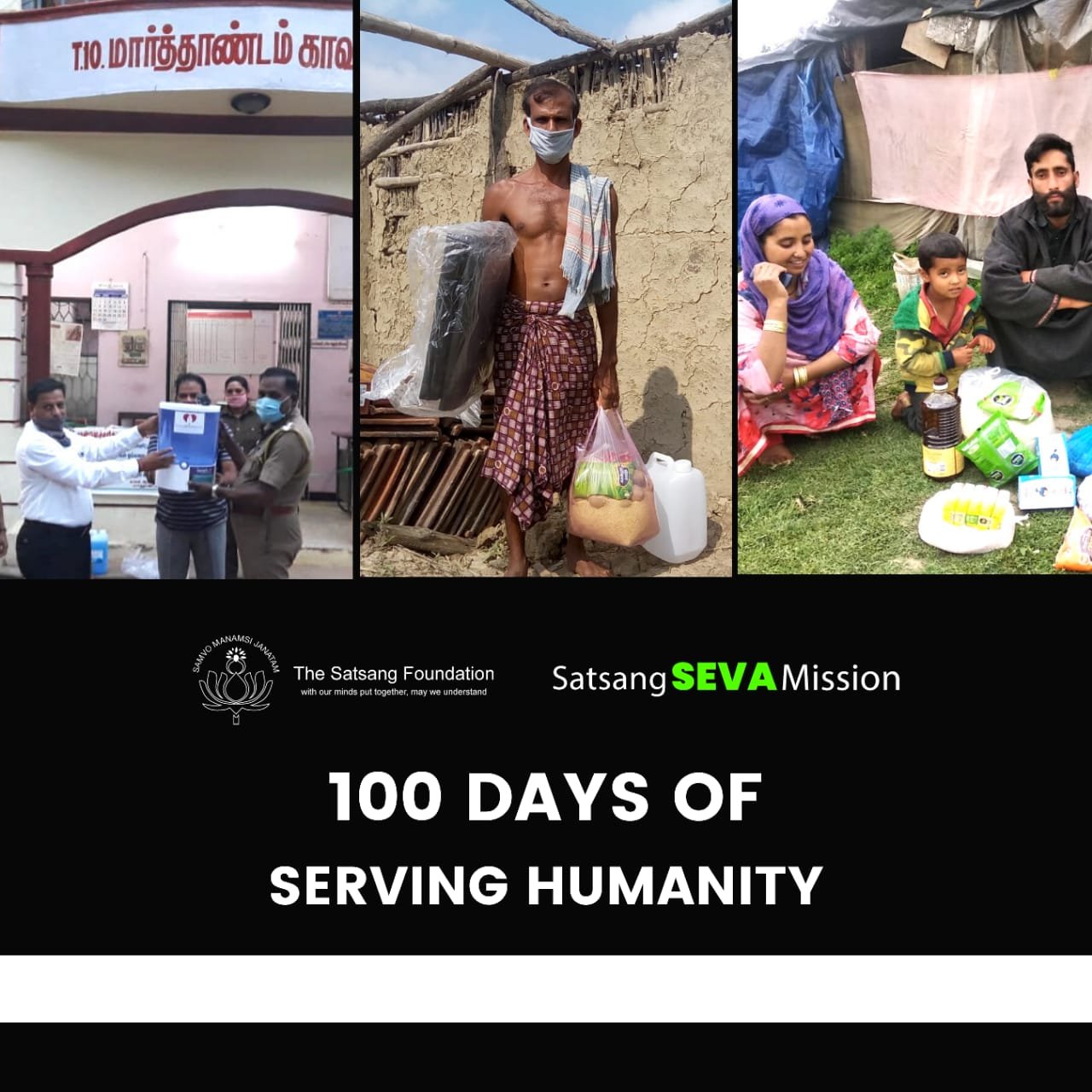 It is impossible to capture in a few words the sheer diversity of about 250,000 people who have benefited, but here are a few instances:
Immediate hunger alleviation was the need of the hour. Starting with 300 people, the Chennai team served more than 115,000 meals, feeding as many as 5,000 people a day at the peak. They have extended support with dry rations and protective equipment to several hospitals and medical colleges.
The Coimbatore team extended support to over 1,000 people, including 160 tribal families in and around the Nilgiris, in five villages (Kadasholai, Ullthatti, Aadupettu, Kotagiri and Kodanad) undergoing immense hardship due to loss of work and economic inactivity. Ration kits consisting of rice, salt, spices, sugar, oil, pulses and other provisions were distributed, each kit adequate for 8-10 days of food for a family of 4 people.
The TSF Karnataka team created and distributed 3,900 'Abhinandan Kits', each comprising two face masks, two sets of gloves, a hand sanitiser, and one plastic face shield to police personnel and Asha Workers in Chikkaballapur, Davangere, Kalaburgi, Bengaluru, and Mysore. Nearly 3,600 dry ration kits were distributed across various locations, each kit containing two weeks of rations for a family.
The TSF Pune team, in collaboration with Family Planning Association of India's Pune branch, distributed ration on multiple days to transgender people, HIV patients, cancer patients, and disabled people, who were in dire need of support.
The Mumbai Satsang team had to tackle the constantly changing equation between those who needed support and the locations which could be accessed under the COVID zoning regulations. They distributed provisions to a group of women from red-light areas, slums, and to the families of underprivileged children who come to a study centre supported by the Mumbai Kendra.
As SSM volunteers in Noida (Delhi-NCR) were wrapping up distribution of dry ration packs one week, one of them came across a group of children standing barefoot on the scorching pavement. Their distraught mother said, "They used to get a new set of clothes for Eid earlier. Now I can't afford to buy them a pair of slippers." The volunteer immediately took off her own footwear and gave it to an older child. The SSM team decided to help the distressed families celebrate Eid. They put together 50 packets of seviyan (vermicelli), milk, sugar, and dry fruits for some families who were delighted that they could light their cooking fires with their traditional sweet dish in these challenging times.
The Satsang Seva Mission team at Hyderabad responded to the dire need for Acrylic Intubation Boxes, used to insulate COVID-19 patients who were in the Intensive Care Units (ICUs) of government hospitals and prevent the transmission of infection to healthcare workers.
Mathura, being a border district, witnessed a lot of movement of workers from Delhi and Haryana to UP and Bihar who were walking back to their villages. Realising that dry ration kits would be more a burden than support during their travels, the Vrindavan team designed easy-to-carry kits containing protein-rich sattu (a mixture of ground pulses and cereals), sugar, and black salt, which was nutritious, filling and would also keep them hydrated.
Satsang Kendras around the country (including Madanapalle, Chennai, Delhi) organised the production of reusable masks by women's groups, providing these women with a means of livelihood. The masks have been donated to families that received ration packs, as well as to the general public.
We are grateful for all the material and monetary support received from within the country and outside, from individuals and institutions, and will count on the continuing support as we move forward to alleviate the pain of our fellow citizens.