Since its inception in 2013, the Satsang Swasthya Kendra has focused on preventive healthcare and wellness. In a time when the world is battling with the pandemic, the role of Swasthya Kendra has become more pronounced. Awareness sessions were organised for hand hygiene, social distancing, education on proper protective gear, sanitisation norms, to early detection through screening. The beneficiaries of Swasthya Kendra were prepared well in advance to face this battle. The past couple of months have been challenging for people from all walks of life, with loss of their livelihood. Hence, despite all the challenges, Swasthya Kendra's regular patients received not only medicines to tide the initial lockdown, but also dry rations for the deserving among them through Satsang Seva Mission. Swasthya Kendra introduced tele-consultations through dedicated doctors who provided medical advice on handling minor ailments. Telephone follow-ups were made to make sure all beneficiaries were doing well, and counselled extensively to preserve their mental well-being. They participated in the Yoga Day organised by Bharat Yoga Vidya Kendra from the safety of their homes.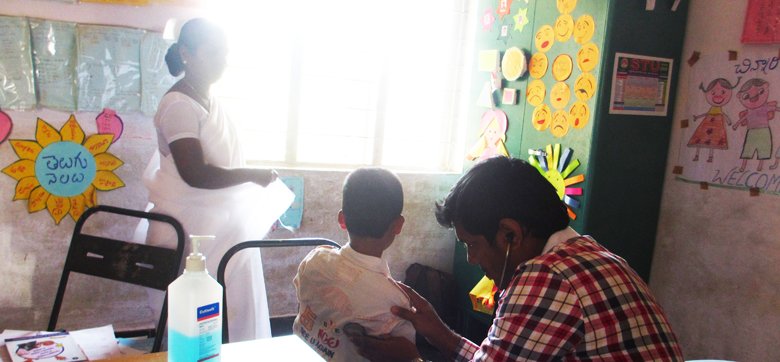 38 Bed Hospital
The new 38-bedded hospital is also picking pace. It is comprehensively designed to cater to all the basic medical needs of the local populace with two major operation theatres. With designs matching NABH standards, this hospital will set a benchmark at Madanapalle. Your unstinting support for this project is making the dream of providing quality medical care to the most deserving come true. We hope for your continued support in this endeavour.
Ray of Hope
In the most challenging of the times, where the whole world was battling COVID, and all the resources and workforce were engaged to full capacity, two tiny tots were brought to Swasthya Kendra's notice who needed guidance and financial aid very badly. One was afflicted with a rare genetic disorder called Fanconi's Anemia, for which he is on treatment at Satsang Swasthya Kendra, while the other, 14-days-old, was about to lose his mother due to a C-section gone wrong with gastric perforation and severe sepsis. The first child started bleeding from his nose and was becoming critical by the hour, and an urgent appointment was set up at RUIA for an urgent transfusion. His blood group is rare and was very difficult to source, but with timely communication to the blood bank and financial aid from a generous donor of The Satsang Foundation, this was managed impeccably. The child is back at home, being naughty and doing well.
The second child's mother, who was critical, was shifted to CMC Vellore, and while the team there managed the surgery very well, expenses were mounting. It was the holy month of Ramzan, but the family was forced to fast due to of lack of funds. Yet again these basic needs were addressed immediately by a volunteer doctor in Chittoor through good contacts in Vellore. Not only did The Satsang Foundation pitch in, but well-wishers from The Satsang Foundation family rose to the occasion and donated generously towards the cause. Both mother and child are now doing well and are back home, healthy and safe. It amazes how, even in times of crisis and uncertainty, the seva bhava in all rises and reaches out to the most deserving.
It did seem a wonder that there was so much hope amidst misery all around.