---
Bharat Yoga Vidya Kendra, an initiative of The Satsang Foundation was founded by Sri M to teach authentic, traditional Yoga for holistic well-being to all aspirants.
---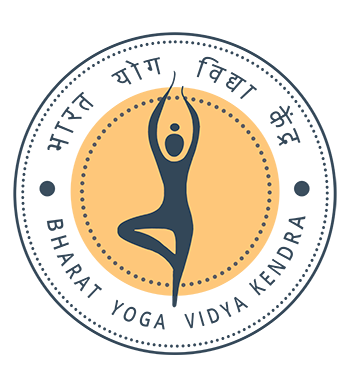 The Yoga Kendra functions under the direct guidance of Sri M who has practised Yoga from the age of eight and later has been teaching the deeper aspects of yogic philosophies to many.  With its origin in ancient India, the practice of Yoga can be traced back to over 5000 years ago. To preserve the heritage of our country, the curriculum at BYVK has been compiled by him, based on ancient yogic texts including Yoga Sutras of Patanjali, Haṭha Yoga Pradīpikā, and Haṭha Ratnāvalī.
While conducting free Yoga classes for the community in and around Madanapalle, Andhra Pradesh, the Kendra has also been providing awareness sessions on Yoga and free training to the students of Satsang Vidyalaya. This has enabled the children to practice the simple techniques from a very young age.  The Government of India and Ministry of AYUSH recognises Bharat Yoga Vidya Kendra as a Yoga Training Centre.
---
Yoga is a practice by which any human being who is earnestly interested can transform his or her life in a positive way, to start with. Yoga has a much vaster implication than just postures. It starts with the body, goes to the mind and proceeds to the spirit.
– Sri M

---
Infrastructure & Surroundings
---
This slideshow requires JavaScript.
---
The Yogashala
---
The Bharat Yoga Vidya Kendra's Yogashala was inaugurated on 11 December 2020. In a simple ceremony, Sri M consecrated the main deity, Sage Patanjali and the other idols at the Yogashala's temple. The Yogashala was built under Sri M's personal supervision. The aesthetically designed and the well-ventilated red and grey building can comfortably accommodate a class of 35 yoga practitioners. The Yogashala is located amidst the salubrious surroundings of the ashram, in tune with Mother Nature. It offers a safe space for everyone to learn, practise, and experience Yoga in a serene, peaceful and meditative environment.
Surrounded by lush foliage and soft, natural light streaming through the ceiling high windows, the Yogashala's atmosphere effortlessly puts the practitioner in a quiet frame of mind, open and ready to imbibe the subtle and yogic teachings for a truly wholesome experience. In addition to Yoga classes and training programs, Sri M's vision also entails dissemination of knowledge on several related topics via lectures and workshops at the Yogashala

---
Classes & Training Programs
The Yoga Kendra organizes regular Yoga classes and Residential Teacher Training programs
• Yoga for Beginners
• Yoga for Intermediate practitioners
• Yoga for Advanced Practitioners
• Yoga Teacher Training Program
All programs will help the aspirant gain deeper understanding of the traditional scriptures, and practice of Asanas, Pranayama, Mudras, Bandhas and Meditation.
For more information, please write to bharatyoga@satsang-foundation.org.
Download Your Free Copy of  the Yoga M – eBook !
(To Receive this Free eBook in pdf format, please share the following details below)
All Upcoming Yoga Courses
---
---
Announcing the 2nd Yoga Teachers Training Course
---
---
Bharat Yoga Vidya Kendra is pleased to announce the next Yoga Teacher's Training Course (TTC) starting on 17th April 2021 at Madanapalle, Andhra Pradesh.
The course is aimed to train sincere Yoga aspirants develop a strong foundation in comprehensive understanding of yoga, yogic philosophy and traditional yogic practices.
It is a 30+ days – 200hr residential program designed under the guidance of Sri M.
Online Yoga M
---
---
Frequency : Monthly
---
Yoga M has been conceived by Sri M for daily practice of any spiritual aspirant. The course is a fine balance of Asanas, Pranayamas and Yoga Nidra and Sukshma Vyayama. It comprises 25 simple Yoga poses to help the aspirant move ahead on the inward journey.
Dedicated practice of yoga sequence brings in a great sense of self awareness and gratitude, improves health and self-discipline. It also makes one's body flexible. The course will be facilitated ONLINE.

---
---
Yogic Practices to Boost Immunity & Irrigate the Lungs with Oxygen
---
The second wave of COVID19 is raging across the country.
While advising to strictly follow protocols and the essential safety precautions shared by our medical fraternity, Sri M demonstrates two yogic breathing techniques and chants the ancient Maha Mrityunjaya Mantra, to help combat fear and anxiety, which affect immunity and make us prone to severe infection.

Watch the video to learn and practice the tools and techniques along with him, to safeguard yourself and your loved ones.
Meditative Chants from Sri M
---
BYVK – News & Updates
---