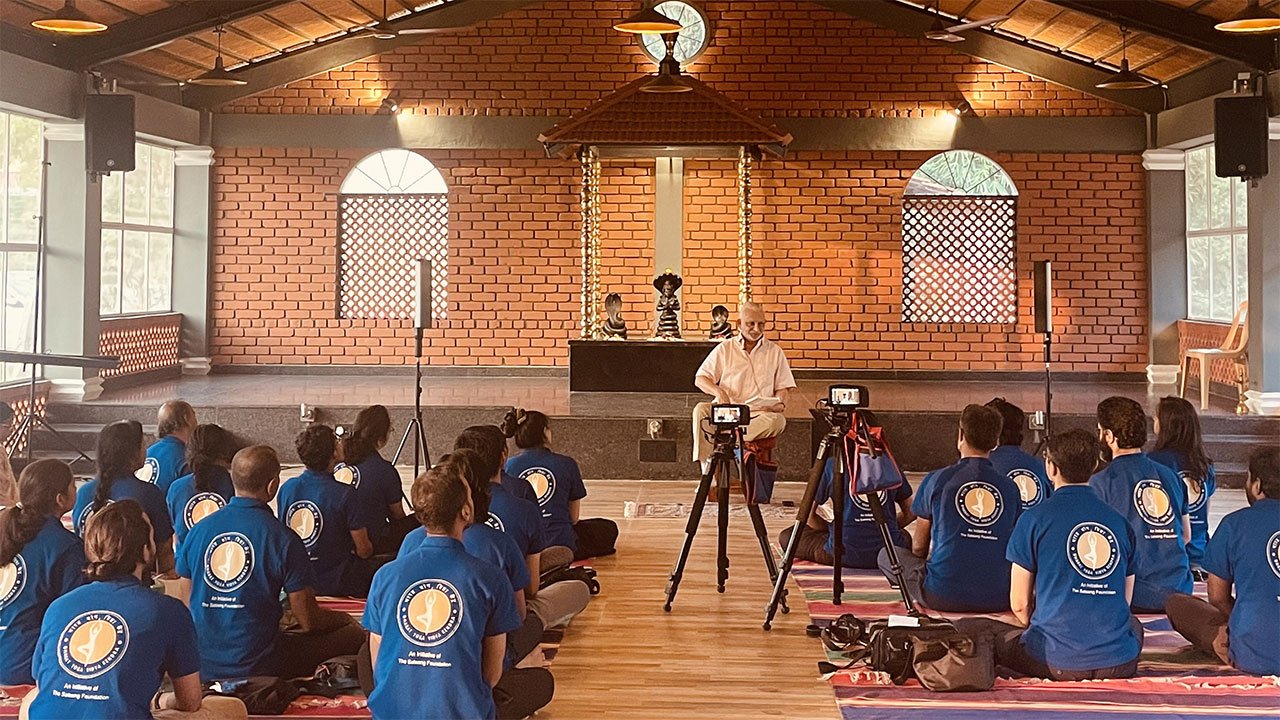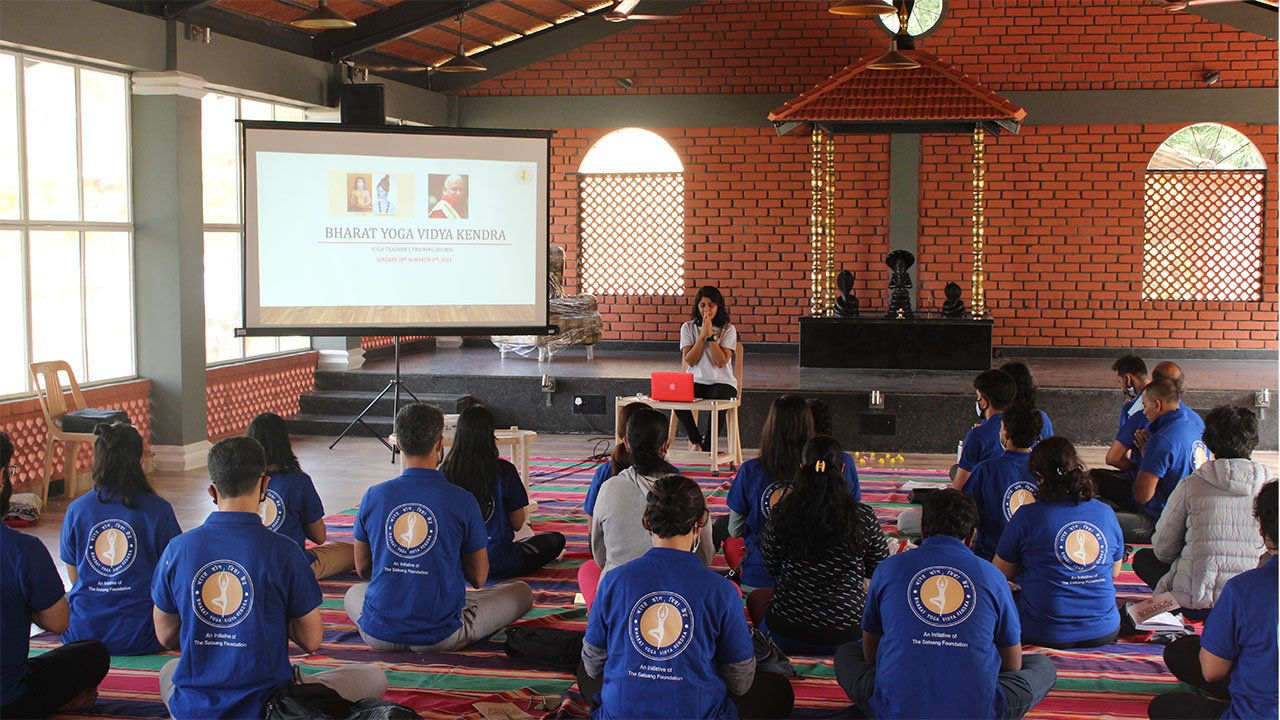 Bharat Yoga Vidya Kendra, an initiative of The Satsang Foundation was founded by Sri M to teach authentic, traditional Yoga for holistic well-being to all aspirants.
The Yoga Kendra functions under the direct guidance of Sri M who has practised Yoga from the age of eight and later has been teaching the deeper aspects of yogic philosophies to many. With its origin in ancient India, the practice of Yoga can be traced back to over 5000 years ago. To preserve the heritage of our country, the curriculum at BYVK has been compiled by him, based on ancient yogic texts including Yoga Sutras of Patanjali, Haṭha Yoga Pradīpikā, and Haṭha Ratnāvalī.
While conducting free Yoga classes for the community in and around Madanapalle, Andhra Pradesh, the Kendra has also been providing awareness sessions on Yoga and free training to the students of Satsang Vidyalaya. This has enabled the children to practice the simple techniques from a very young age. The Government of India and Ministry of AYUSH recognises Bharat Yoga Vidya Kendra as a Yoga Training Centre.
Yoga is a practice by which any human being who is earnestly interested can transform his or her life in a positive way, to start with. Yoga has a much vaster implication than just postures. It starts with the body, goes to the mind and proceeds to the spirit.

– Sri M
Infrastructure & Surroundings
The Yogashala
The Bharat Yoga Vidya Kendra's Yogashala was inaugurated on 11 December 2020. In a simple ceremony, Sri M consecrated the main deity, Sage Patanjali and the other idols at the Yogashala's temple. The Yogashala was built under Sri M's personal supervision. The aesthetically designed and the well-ventilated red and grey building can comfortably accommodate a class of 35 yoga practitioners. The Yogashala is located amidst the salubrious surroundings of the ashram, in tune with Mother Nature. It offers a safe space for everyone to learn, practise, and experience Yoga in a serene, peaceful and meditative environment.
Surrounded by lush foliage and soft, natural light streaming through the ceiling high windows, the Yogashala's atmosphere effortlessly puts the practitioner in a quiet frame of mind, open and ready to imbibe the subtle and yogic teachings for a truly wholesome experience. In addition to Yoga classes and training programs, Sri M's vision also entails dissemination of knowledge on several related topics via lectures and workshops at the Yogashala
Classes & Training Programs
The Yoga Kendra organizes regular Yoga classes and programs, both online and residential.
All programs help the aspirant gain deeper understanding of the traditional scriptures, and practice of Asanas, Pranayama, Mudras, Bandhas and Meditation.
For more information, please visit website
| | |
| --- | --- |
| KausalaM Yoga -Yoga M:Intermediate Course | Details |
| Yoga M | Details |
| Yoga M (Malayalam) | Details |
| Teachers' Training Course | Details |
| AbhayaM – Yoga for Senior Citizens | Details |
| Avistaran – Yoga for Corporate Professionals | Details |
| SakhyaM – Yoga for Women | Details |
| Atha Yoga Anushasanam – Online Yoga for Self-discipline | Details |
Talks & Conversations on Yoga
Sri M's talks and conversations on Yoga offer better health and well being during these challenging times.
The video on the demonstration of various simple asanas, by the students of the Yoga Kendra can be viewed to practise yoga every day. Sri M says, with regular practice of these asanas, the body becomes healthy and this results in boosting immunity and also in the increase of resistance to various infections and diseases.
Covid 19 Disclaimer: Please note, the Information provided in the videos is not a cure to Covid 19. Please consult a doctor if you have any symptoms such as a cough, or fever or have been in proximity with someone who has recently tested Covid positive.
BYVK – News & Updates