We are living in an era where most of what we need is available at our fingertips, be it information, products, or most of the many things we need to make our lives comfortable. Gadgets like the computer, tablets, smart phones and so on make this possible for us. The recent COVID pandemic defined this shift in such a way that it has become the new norm of life and living, both on the personal and professional front.
Understanding the Ayurvedic Perspective
From the point of view of Ayurveda, overuse of gadgets affects our well-being. This is termed, 'Asatmya indriyartha samyoga' – not conducive union of sense organs and their objects. Over use of our sense organs with their objects of contact creates imbalance of the functional energies of our bodies termed 'dosha'.
Symptoms of Overusing Gadgets: Imbalances and Doshas
For many of us in the corporate world, stiffness of the neck and spine, radiating pain down the arms and legs, muscular fatigue and pain, poor digestion, disturbance in sleep patterns or sleeplessness, low energy levels, high levels of stress, may be due to 'Asatmya indriyartha samyoga'.
Ayurvedic Solutions for Restoring Balance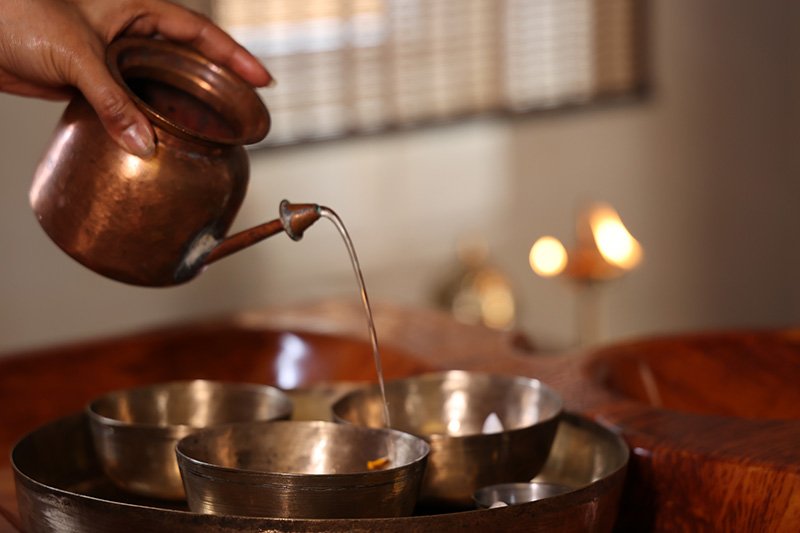 Traditional Ayurvedic detoxification and destress therapies at regular intervals bring great relief by balancing the doshas. Conscious moderation in activities of the senses, a supportive diet and Ayurvedic internal medications will help in maintaining the balance in the long term, helping us lead fairly healthy lives while still engaged with our busy and engaging schedules.
ArogyaM: Your Guide to Ayurveda
Please connect with ArogyaM to understand more about Ayurveda and its practices. Our Vaidya is available for consultations both online and in person.
Our BYVK-trained Yogacharya conducts regular sessions of Yoga at The Sacred Grove, Chowdepalle, for both the care-seekers at ArogyaM as well as guests who have come for self-study, Swadhyaya. The Sacred Grove that nestles ArogyaM is a beautiful, serene, retreat centre that provides the perfect ambience to heal and introspect, away from the hustle and bustle of city life. The Sacred Grove is hardly a two-and-a-half-hour drive from Bangalore airport and is just forty minutes away from Madanapalle Ashram.
Embracing the principles of Ayurveda and making mindful choices regarding our gadget usage can empower us to lead more balanced and fulfilling lives. Prioritising our well-being amidst the convenience of modern technology is not only essential but also achievable, with Ayurveda as our guiding light.
For online consultation, exploring programmes or customised treatments please contact us at +91 8340932384 or write to us: wellnesscenter@satsang-foundation.org
To know more about the wellness programs, please click here.
To know more about online consultations, please click here