The Satsang Jal Seva Sangatan (SJSS) was formed by Sri M in order to promote water conservation and to make sure that Indian cities are self-sufficient for their water needs.
Inspired by Sri M's urgent call to promote and implement rain-water harvesting, this initiative ensures that every household and institution in India recycles water efficiently. Towards this, the SJSS is engaged in several activities.
Dissemination of the SJSS pledge and Awareness creation on water conservation in schools, apartment complexes, offices, villages, orphanages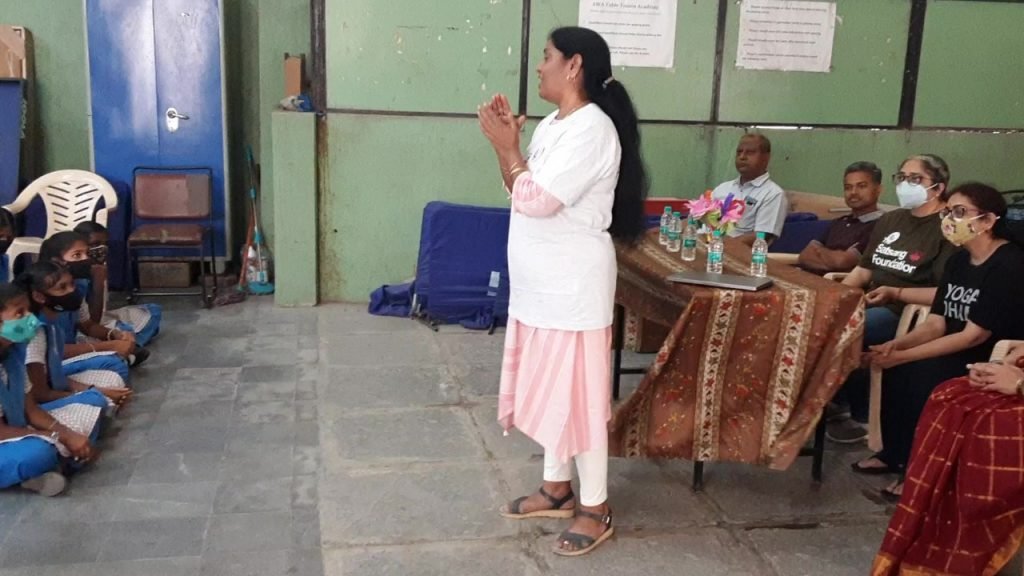 Many institutions in Bengaluru, Pune, Ludhiana, Madanapalle, Hyderabad, Sadum, Chowdepalle, and Lathira have taken the SJSS pledge. They also came together to share their thoughts on the necessity to conserve water and how best to go about it.
Awareness through Social Media
Weekly messages and stories of the initiatives are posted on Facebook, LinkedIn, Instagram and Twitter.
Rainwater Harvesting (RWH) in houses, apartment complexes, creation of recharge wells
The rainwater from all the rooftops of the school buildings is diverted to an underground tank that stores up to 40,000 litres of water, at Satsang Vidyalaya, Madanapalle.
The Peepal Grove School in Sadum set up rooftop harvesting and grey water recycling, and built pits and channels to recharge groundwater.
At Sacred Grove, Chowdepalle, AP, a 30 lakh litre retention pond has been built in a location that makes it practical to collect run-off rain water and drain the overflow into the nearby well.
At Kidwai Institute of Oncology, Bengaluru, a percolation well has been created to recharge the ground with rain water.
Upcoming Activities
Persuade Satsangis to implement rain water harvesting. Teams at Vrindavan, Bengaluru and Ludhiana have formulated plans on these lines.
An old age home in Maherwat near Pune requires rainwater harvesting to be implemented in their premises. The team has begun to seek permissions and funds for the same.
At Prakasam Vidya Niketan, Hyderabad, the SJSS team is planning to help the school to implement rainwater harvesting there.
Around 50 recharge wells in Chennai are finalized for implementation at Mahalingapuram, and Nungambakkam colonies. This will help divert rain water to the ground thereby preventing flooding and draining into the sea.
The team in the Delhi region plans to create a vendor list of RWH experts, similar to the work done at Bengaluru. This will help Satsangis to implement RWH in their premises.
Kerala team plans to join hands with village Panchayats and utilise services of IRTC (Integrated Rural Technology Centre), and KILA (Kerala Institute for Local Administration) to promote RWH.
At Vrindavan, permissions are being sought, to enable water supply for plants in the neighbouring park. The plan is to build a tank, implement RWH in the park, and build a percolation well to prevent rain water run-off.
Cleaning of water bodies
Mumbai Kendra of The Satsang Foundation got the lake at Mal in Murbad, desilted and cleaned. Now the villagers do not have to travel long distances to fetch water — the water in the lake is a perennial source for them.
The team at Delhi-NCR initiated work on Ram Talab in South Delhi on 22 March, 2022, on World Water Day.
Upcoming Initiatives:
At Chikkaballapura near Bengaluru, the kalyani (temple tank) will be cleaned, steps repaired, and a fence put up, to protect the tank.
Purification of a natural lake called Greenfields lake, near Delhi, is planned.
Ground water is polluted in Lathira , near Delhi. A cleaning unit is to be set up to purify the water and make it potable for people's use. 2 service providers have been identified for further discussion.
A temple tank at Chennai will be identified for revival. The plan is to seek permission from the minister in charge to execute the project.
There are plans to clean a well whose water is presently unusable at Gopi Nagar, Hyderabad.
People dump plenty of plastic and other waste, on the banks of the Ganga, after Karthik Poornima festival at Garh Mukteshwar, which later flows into the Ganga. The team plans to explore a solution to this issue.
The Pune team is planning to rejuvenate the Kuber river in Alandi. Garbage dumped into the river has to be removed and the river dredged in various spots to allow water to flow.
The Delhi-NCR team will work on the Ram talab in South Delhi to clean it and treat it with Bio enzymes.
Bangalore University campus needs creation of storage wells and ponds; the SJSS team will take this up.
The Chennai team is planning to clean a water body associated with a temple in Pudukottai and another one in Kancheepuram.
Grey Water Recycling
The team at Madanapalle are exploring its implementation.
BARC Filter usage to reduce wastage of water during reverse osmosis
This is to prevent water wastage from reverse osmosis systems. The recommendation was to replace the filter in RO systems with this filter. It will purify the water and avoid wastage.
Metro Water Diversion to Lake
At Bengaluru, the water collected in the metro lines is diverted through a pipe to the ground. The plan is to send it to a neighbouring lake.
Water usage measurement app creation
Creation of an App for measuring a person's water usage for different purposes and for tracking improvements that a person makes is being explored.