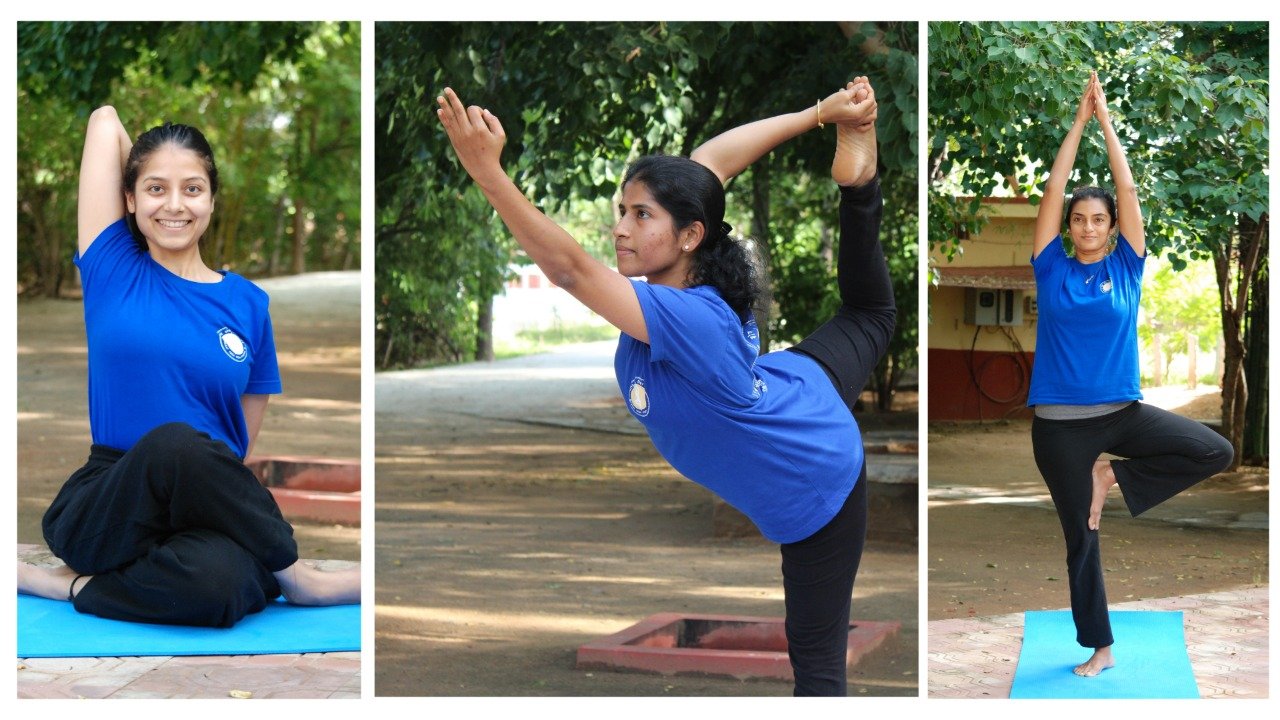 Yoga is a practice by which any human being who is earnestly interested can transform his or her life in a positive way, to start with. Yoga has a much vaster implication than just postures. It starts with the body, goes to the mind and proceeds to the spirit. – Sri M
Bharat Yoga Vidya Kendra announces Yoga courses for July to December 2022, and the upcoming  Yoga TTC in December 2022, all designed under the guidance of Sri M.
All programs aim for the holistic well-being of all aspirants and to help them gain deeper understanding of the traditional scriptures, and practice of Asanas, Pranayama, Mudras, Bandhas and Meditation.
SakhyaM- Online Yoga course for women
SakhyaM is an online 12-day course designed especially for women.
SakhyaM is a Sanskrit word that means friendship. Through this course, we hope to develop in women a deep understanding and friendship with their body, mind and breath. Empowerment can be truly found within and the first step to that is achieving a healthy body and mind.
Course Dates : 25th July to 6th August (Weekday Batch- first Sunday off)
For more Details & Registration : Click Here
AbhayaM – For the Elderly
AbhayaM is a 14-day residential Yoga course / retreat dedicated for the elderly, designed under the direct guidance of Sri M.
Every stage of life has its own charm. While the golden years bring maturity, wisdom and discipline, bodily wear and tear are inevitable as the years pass by. Yoga can help mitigate these by encouraging a healthy and active lifestyle. This results in keeping the mind and body fit.
If you think, you are too old to learn Yoga, then think again. Even if you have suffered from injuries, chronic pain, or other physical problems.
Dates: 17 September (arrival by 12 pm) – 3 October (departure by 9:30 am)
For More Details & Registration, Click here
The Yoga Teachers' Training Course – (Fully Residential)
The Yoga Teachers Training Course (TTC) offered at the Bharat Yoga Vidya Kendra in Madanapalle is a 200 hrs (30 day) comprehensive training into ancient Yogic texts and practices. The upcoming course is a fully residential programme conducted at The Satsang Foundation Campus (TSF) in Madanapalle.
On successful completion, a certificate for 'Yoga Protocol Instructor' is issued jointly by Yoga Certification Board (YCB) – Ministry of AYUSH, Govt of India, and Bharat Yoga Vidya Kendra.
Course dates : 1-29 December 2022
For More Details & Registration, Click here
In case you have any queries, please write to bharatyoga@satsang-foundation.org.