As the Satsang Vidyalaya celebrates its 23rd Founders Day on November 6th, it is time for reflection on the journey traversed since 1999 when Sri M, taking a walk in Nakkaladdini village near Madanapalle, came across a number of children from the Lambadi community herding cows and goats or just loitering in the surrounding fields with no access to education, proper nutrition, health or sanitation.
That very evening, picking up a register and calling in on parents from the surrounding community, he decided to set up a school within a single thatched room with proceeds from the sale of his paintings through an exhibition in Bengaluru. The school now has 200 students from Classes I to X, with 15 teachers, 11 classrooms, a Library, a Computer Lab with Internet access, and a Science Lab.
According to Sri M, the focus of education should be on bringing about the flowering of the minds of children by building the inclination to inquire, and then to understand with great interest in the subject. This, he deems to be the Upanishadic way of learning through dialogue and enquiry, rather than rote.
It is this that makes the Satsang Vidyalaya a school with a marked difference for less privileged children, not only providing free education, but serving them midday meals and giving them access to healthcare. Each subject teacher has an individual notebook for every child, noting their special capacities and areas where they might need more attention. This could be in the space of creativity, understanding, expression, interest, verbal or written communication. In order to strengthen this resolve, regular and intensive interactions with parents, teachers and children has become the norm.
From enlisting only the Lambadi children that he saw, the school has now economically marginalised children from all faiths and communities. Their parents are mostly daily wagers, small farmers or manual labourers. With a rather unique thought last month, the school asked the parents to collect whatever little money the children got from elders and relatives during the festive season, and get the children to bring it along with them to school, so that it could be saved in a bank. All children from Classes VI to X have their own bank accounts and when the time comes to pay for stationery or books, the children proudly contribute to what their parents pay for. Needless to say, the parents are very proud of the support from their children and the latter's interest in education.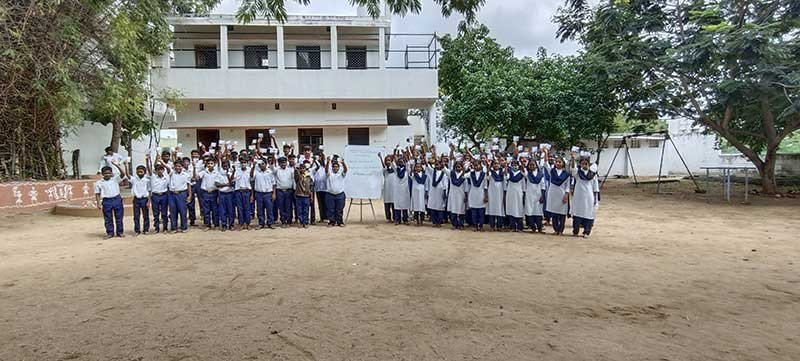 In February 2022, the school welcomed an immensely talented music teacher who is a vocalist, percussionist as well as a flautist, steeped in the folk art of the region. Having taught in rural schools of the Rishi Valley, Mark is now delighted to teach and interact with the bright, curious and talented children of the school. He is only one among the many privileged folks who have had a successful stint in the world in their own fields of activity, and are keen on sharing their wealth of knowledge to those that don't. Teachers are equally happy giving of themselves to the school since they felt that coming in from regular corporate schools, the regimen in The Satsang Vidyalaya was definitely relaxing, giving them time to breathe and to interact and know the children well,  and giving them individual attention. It is this individual attention that prompted Pujita and Naveena, two former students to come back to their beloved school after higher studies, to teach English and Computer skills respectively. 
They could have, if they chose, got a better paying or glamorous career, but they wanted to give back what they had received so generously from the school. We hope these are the values that get subtly and strongly inculcated in every child, as they progress in education from the School.
Many others from the school have gone on to hone their skills at the Satsang Foundation's Skill Development Centre and now have satisfying jobs in software firms, department stores or in other technical fields. Some are assisting their parents with skills in farming. The school has indeed come a long way from the tiny thatched room where it all started from.
It brings hope to another school, Chanda Satsang Vidyalaya, (also a part of the Satsang Foundation) tucked away in the rural environs of Garh Mukteshwar District in Uttar Pradesh, starting out in 2017 from primary classes in a leased space with children of farm hands and daily wagers who also had no access to education, proper nutrition, sanitation and health.
On the Founder's Day, students of Chanda Satsang Vidyalaya presented a very thoughtful dance program on Gananayaka Vandana, a skit on the life of Sri M, based on the elephant incident narrated by him in his Autobiography, where Sri Maheshwaranath Babaji tames a wild elephant in the Rishikesh forest. Also, the students presented a skit on the "Importance of Education" with special emphasis on educating the girl child and a skit on "Negative effects of smartphones" on children.
As Sri M says, "We really want a school with a difference where children develop as if they are flowering from within, and become good in whatever they choose to excel in."